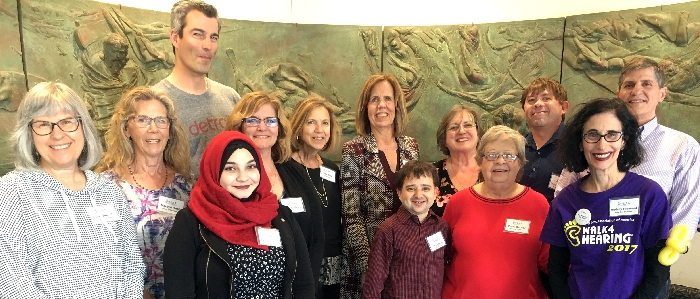 The Hearing Loss Association of America, Michigan State Association
is pleased to announce the election of Christopher Dorais to our board of trustees. He will be serving a three-year term. Responsibilities include becoming familiar with hearing loss issues on our agenda, attending board meetings (3 times a year), and actively participating on the newly formed Social Media Committee. Please see the biography below.

Christopher Dorais: I am a 50-year-old Hard of Hearing (HOH) individual with severe to profound conductive hearing loss. I currently wear a Cochlear Americas Baha 5 Superpower bone anchored hearing aid. I was born deaf and had over 16 surgeries on my left ear to correct my hearing
loss. I had my right ear operated on in 1998, but scar tissue formed
over the new eardrum. I find the Baha to be a better fit for me than
traditional hearing aids.
I have an 8-year-old son who has a mild to moderate hearing loss.
He currently wears bilateral Behind the Ears (BTE) hearing aids. My
father who is 83 years old also wears hearing aids as did my mother.
I currently work as a medical device engineer for Terumo
Cardiovascular Systems in Ann Arbor. I have worked there for about
7 years now.
Six others were re-elected for another 3 year term. They are: Patty Becker, Yasmine Fayed, Linda Hess, Liz Kobylak, Audrey Pleasant and Barb Quart.
Patty heads up the Outreach/Communications Committee and serves on the Legislative/Advocacy Committee. Yasmine serves on the Social Media Committee. Linda heads up the Annual Meeting Committee and serves on the Outreach/Communication, Nominating and SE Michigan Walk4Hearing Committees. Liz heads up Chapter Development Committee as Chapter Coordinator and is co-chairman of the HTRS Committee. Liz also serves on the Outreach/Communication, Annual Meeting, SE Michigan Walk4Hearing, Legislative/Advocacy and Scholarship Committees. Audrey serves on Outreach/Communication, SE MI Walk4Hearing and Legislative/Advocacy Committees. Barb heads up the Finance Committee (as Treasurer) and is chairman of the SE MI Walk4Hearing Committee. Barb also serves on the Outreach/Communication and Annual Meeting Committees.