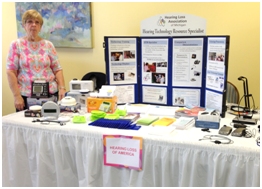 Mission: To increase knowledge of hearing assistive technology (HAT) so that people with hearing loss will experience greater inclusion within their families and communities.
Hearing Assistive Technology (HAT): Refers to any technology that can improve reception of communication in various listening situations and alerting devices that lead to greater independence.
---
Communication Devices
Personal Amplifiers
FM Systems
Telephones and Phone Amplifiers
Cell Phones
Bluetooth Devices
Induction Loop Systems
TV Listening Systems
Alerting Devices
Alarm Clocks
Timers
Shake-Awakes
Doorbell Ringers
Smoke and Carbon Monoxide Detectors
Sound Monitors (Baby Cry)
---
HTR Specialist: Specialists are volunteers of the Hearing Loss Association of America, Michigan State Association (HLAA-MI), who have been trained to:
Demonstrate HAT to people on a one-to-one basis
Provide displays at conferences, health fairs, etc.
Give presentations to groups within their local communities
An HTR Specialist can provide names of reliable, trustworthy technology businesses. They can also put you in contact with local HLAA-MI Chapters where you can share coping strategies and support for hearing loss related issues.  Most HTR Specialists have a hearing loss and use HAT themselves. They know about the struggle to function in a hearing world. They want to share what they have learned with you.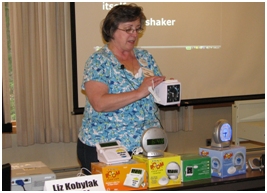 To Schedule a personal demonstration, display or presentation,   Email HTRS
Demonstrations are provide in a relaxed and informal atmosphere. HTR Specialists do not sell HAT devices.